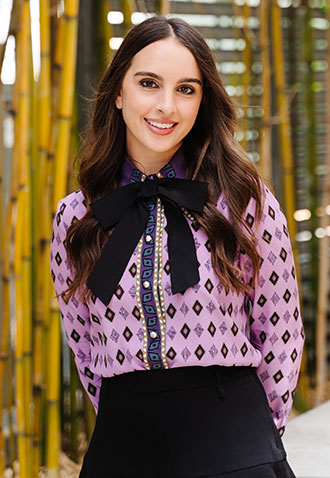 No stranger to the fast-paced world of real estate, Alexia Umansky represents the next generation of real estate professionals, bringing a forward-thinking perspective to The Agency's Beverly Hills office.
Alexia represents buyers and sellers and serves as the Marketing Specialist for the award-winning Umansky Team—a dynamic group of agents that includes Mauricio, Farrah Brittany and Eduardo Umansky. Alexia taps into her wide-reaching social media knowledge and degree in Marketing Communication from Emerson University to provide clients with focused, future-facing campaigns and messaging that help every property stand out. While her familiarity with her hometown of Los Angeles is broad, Alexia currently specializes in Beverly Hills, West Hollywood and Sunset Strip neighborhoods.
Coming of age immersed in the industry, Alexia recalls shadowing her father, Mauricio, during showings and was quickly drawn to the excitement and intensity of each part of the process. "I grew up watching my father work. I'd watch him show homes, sit at open houses and build relationships with clients. He knows so much about every neighborhood in this city, driving around with him was always like a little lesson," Alexia says. "As I grew up, I would come into the office to shadow him and always learned something new. Real estate is something I always knew I loved. And I quickly realized I could devote my life to this industry and be happy."
Before joining the Umansky Team, she deepened her knowledge of buying and selling procedures while working as an assistant to some of the firm's top-producing professionals. Known for her natural ability to connect and converse with new people, Alexia is creative, trustworthy and innately compassionate. She also speaks conversational Spanish.
"Being in real estate is exciting every day," says Alexia. "As an agent, I get to meet so many inspiring, creative people—which is an honor in and of itself—and see some of the most incredible homes in the world. Each one is a true work of art. Plus, I get to help my clients make the most important purchase of their life."
In her free time, Alexia enjoys skiing, going to the beach, cooking, trying out the latest restaurants, dancing and traveling. She readily donates her time to activities and organizations that support Children's Hospital Los Angeles—from bake sale fundraisers to holiday gift drives and beyond.
Alexia Umansky 's Listings