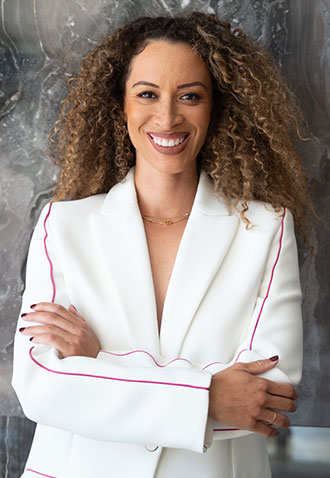 Ciara Short joins The Agency Beverly Hills as a member of the Umansky Team, serving Beverly Hills, Holmby Hills, Bel Air, West Hollywood and the Greater Los Angeles area.
Passionate about connecting with new people and solving problems, Ciara is a natural communicator and creates long-lasting, authentic relationships with her clients. She enjoys creating unique and individual experiences reaching beyond a transaction.
When it comes to L.A.'s diverse neighborhoods, Ciara knows them inside and out—from the restaurants, community and entertainment each offers to its distinct landmarks and outdoor offerings. She'll skillfully help you find your perfect place. Additionally, her eye for design is a true benefit to her clients; from start to finish, she strives to help them not only buy a house but create a home, a place in which they can achieve their best, most fulfilling life. Vastly knowledgeable about architecture and interior design, Ciara understands that each home encompasses something unique—and she has the nuanced vision to see it.
Originally from San Diego, Ciara attended California State University Fullerton, majoring in communications with an emphasis in broadcast journalism. She was also a student athlete—Captain of the Women's Track and Field Team. She went on to become a professional TEAM USA Track and Field Athlete and the highest level athlete in her college history in any sport. Her abundant accolades include being a USA Bronze Medalist and being inducted into the California State University Fullerton Hall of Fame.
After college, Ciara developed her own personal training company and has been a signed model for many years. Today, Ciara's network includes many friends and colleagues in the sports world—she's the liaison between athletes, celebrities and real estate.
In her free time, Ciara enjoys running and working out every day and spending quality time with her family. A true foodie at heart, she loves traveling the world and tasting new flavors. Fashion, dogs, The Lakers and any music by Beyonce are some of her other passions.