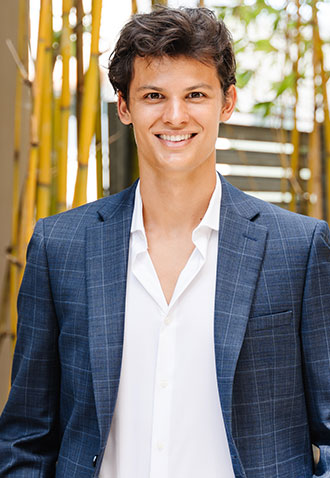 With an extensive background in marketing and negotiation, Nino Millesi expertly helps clients navigate Los Angeles's dynamic residential real estate market, ensuring they feel empowered, respected and cared for. Working closely with Marcella Hudson on The Umansky Team, he serves throughout the Westside, including Beverly Hills and West Hollywood, with a specialty in Malibu and Pacific Palisades, where he grew up.
For Nino, all transactions are rooted in relationships. Empathetic and driven to exceed expectations, he goes out of his way to provide clients with every accommodation. His comprehensive knowledge of market trends and rate movements in addition to his negotiation savvy gives the buyers and sellers who work with him a distinct advantage in their home search and realizing robust returns on their investments.
Prior to joining The Agency, Nino worked as an account executive and marketing specialist for leading direct marketing firms. His responsibilities spanned finance, customer relationship management and technology, which made a career in real estate a logical and smooth transition. Blending his passion for economics, creativity and psychology, he enjoys collaborating with clients and helping them transition to the lifestyle they've always dreamed of.
Born in Vienna, Nino spent his early childhood in Northern Italy before relocating to California. He studied economics at Pepperdine University. Drawn to problem solving, Nino is an avid chess and tennis player but also loves surfing and skiing when he gets the chance. As the brother of someone with autism and auditory processing difficulty, Nino is meaningfully involved in the STAR Institute and donates part of his commission to the organization.